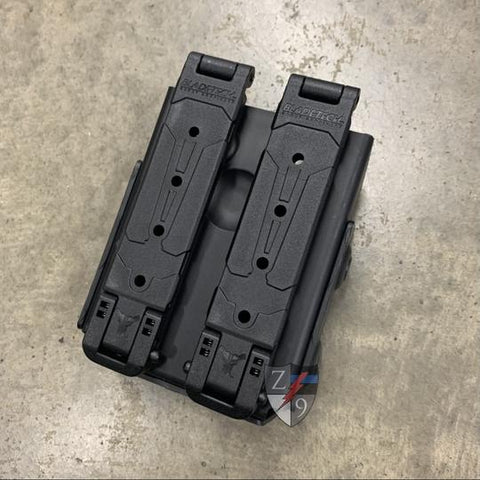 Zero9 ASP Handcuff Basketweave Holders - Style 4002
Rugged universal* case for your handcuffs, designed to be compatible with as many brands and styles of cuffs as possible!

Standard Cuff Case for NON-ASP handcuffs, designed to fit MOST brands of standard HINGED OR CHAIN handcuffs currently on the market (see below).  The standard cuff case has a retention screw to get a better fit and feel on your draw and re-holster.   The oversized handcuffs (large blades - almost like leg irons for the hands) DO NOT fit these cases due to their extremely oversized blades.
The ASP Cuff cases are designed to carry the HINGED OR CHAIN ASP cuffs in any configuration and hold them securely until needed.   NOTE: DOUBLE ASP CASES EXTEND APPROXIMATELY 3.5" OFF THE DUTY BELT OR VEST.  KEEP THAT IN MIND WHEN ORDERING.  OUR CASES ARE AS MINIMAL AS POSSIBLE HOWEVER ASP CUFFS ARE LARGE AND THUS THE CASES FOR THEM ARE LARGER THAN STANDARD CUFFS.
*** IF YOU HAVE THE NEWER ASP FORGED OR IDENTIFIER SERIES NOTE THAT ON YOUR ORDER PRIOR TO CHECKOUT SO THAT THE CASE CAN BE MODDED TO FIT THOSE THICKER CUFFS BETTER ***
---
We Also Recommend