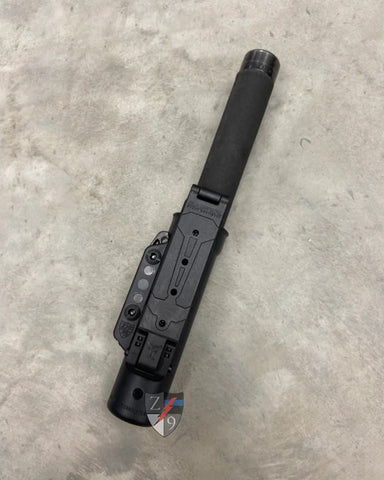 Zero9 Expandable Baton Holder - Style 4038
EXPANDABLE BATON CASE - ADJUSTABLE RETENTION
This ruggedized case for your ASP, Monadnock and other brand of collapsible batons will keep your baton secure and where you need it.  The baton case can be mounted to belts (from 1" to 2.25" duty belts) and molle vests, molle bags, backpacks etc. and at several different angles.  You can dial in your preferred retention and get fitment across multiple 1" series batons using the included baton retention device.  The case will allow for carrying the baton with the tip up or tip down.

Compatibility:
- ASP/Monadnock 1" series of batons (power tip, rubber grip, foam grip - all good)
- Other brands of 1" diameter expandable batons (NOT RCB/PEACEKEEPER)
Mounting/Attachments:
- TEK-LOK for trouser belts and duty belts up to 2.25"
- MOLLE-LOK for molle vests, molle outer carriers, molle bags, backpacks etc (go-bags)