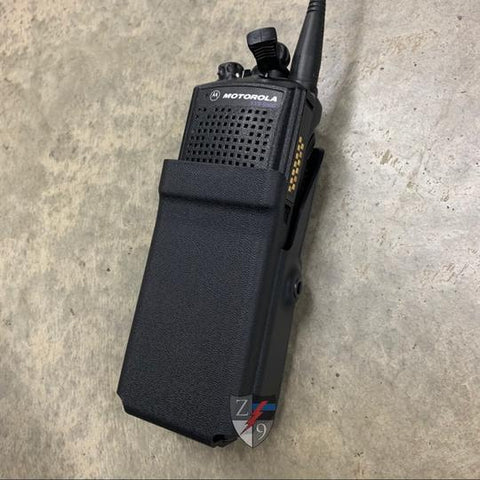 Zero 9 Portable Radio XTS3000/5000 Plain - Tek-Lok - Style Z9-5004
Secure case designed for Motorola Portable Radios. 
- Rugged portable radio case that not wear out over time like stock leather cases or break like the bikini style clips that come with most Motorola radios.  These cases are secure, easy to clean and resistant to blood and chemical contaminants. 
IMPORTANT INFORMATION:
Choose tek-lok for duty belts or molle-loks for molle vests
Choose D-Rings for FIREMAN straps
Bungee style shock cord retention lanyards provide an additional level of retention to compliment the built in custom fit design.

OUR CASES ARE DESIGNED TO FIT AS MANY DIFFERENT BATTERIES AND CONFIGURATIONS AS POSSIBLE.  THERE WILL BE DIFFERENCES IN FIT BETWEEN BATTERIES/CONFIGURATIONS - THE RETENTION LANYARD IS DESIGNED TO ACCOUNT FOR THOSE DIFFERENCES.
MODELS AVAILABLE AND "WILL FIT LIST" (MAKE SURE TO SELECT YOUR MODEL FROM THE DROP DOWN MENU)

MOTOROLA XTS5000 (WILL ALSO FIT THE XTS3000)

MOTOROLA XTS2500 (WILL ALSO FIT THE XTS1500)

MOTOROLA TLK-100 (WAVE)