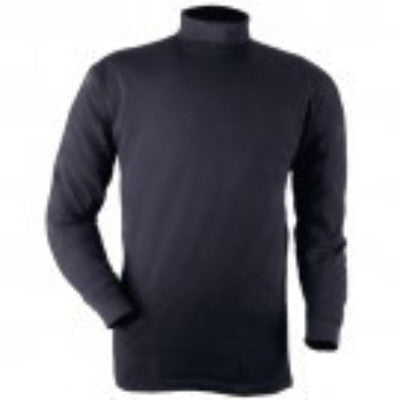 Blauer Mock Neck - Style 8110x
Why are Blauer Turtlenecks better?  Most consumer and uniform turtlenecks are made with 100% cotton or 50/50 polyester and cotton fibers. They stretch one way around the body only.  The all cotton fabrics tend to fade after a few wash cycles and the poly cotton t-necks will exhibit pilling after a few days of wearing.
 Blauer turtlenecks are made using an intimate blend of 90% cotton and 10% lycra. The fabric is no melt, no drip when exposed to heat or flames and has four way stretch so you can choose whether you want a loose or a compression fit. The 1 x 1 rib knit collars and cuffs are also blended cotton and lycra and will easily stretch to fit the largest heads. We also reinforce the seams and make them extra long with a slight 'scoop' in back so they always stay tucked. 
Key Features:
Mock neck styling
Performance blend of cotton and Lycra® with moisture wicking treatment wicks sweat away from your body to keep you warmer and drier in cold weather
High cotton content is safe for public safety use
Beefy jersey knit
Collar and cuffs use the same fabric as the body for true color matching
Collar and cuffs reinforced with stretch fusible 
interlining for better appearance
Extra-long tail stays tucked in
Reinforced shoulder seam
---
We Also Recommend