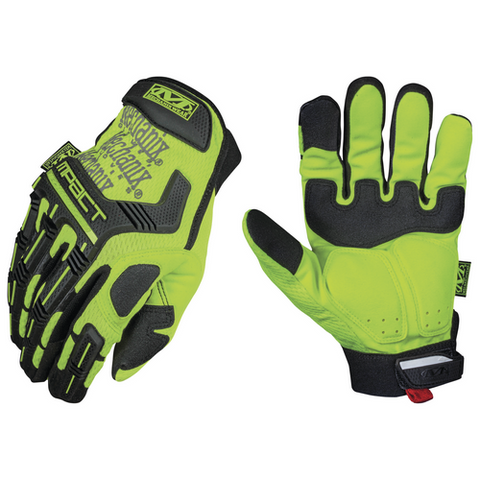 Hi-Viz M-pact Glove SMP-91-009
The Hi-Viz M-Pact® glove utilizes a high-visibility AX-Suede™ palm and ANSI-107 compliant materials to improve visual awareness. Breathable TrekDry® form-fits the hand and hi-viz reflective print provides eye-catching luminance. The dual-layer internal fingertip construction reinforces high wear areas of the thumb and index finger for improved abrasion resistance, while the embossed and textured fingertip pattern provides grip where you need it most. When the going gets rough, Thermal Plastic Rubber (TPR) extends from your knuckles to your fingertips, delivering critical pinch-point and impact protection. The palm features a durable Armortex® reinforcement panel and impact-absorbing XRD® palm padding for comfort day in and day out.
Features
ANSI-107 compliant high-visibility materials.
High-visibility reflective print enhances visibility.
Molded Thermal Plastic Rubber (TPR) knuckle protection.
Molded Thermal Plastic Rubber (TPR) pinch-point finger protection.
Armortex® palm reinforcement panel.
Dual-layer internal fingertip reinforces the index finger and thumb.
XRD® palm padding absorbs impact and vibration.
Form-fitting TrekDry® material helps keep hands cool and comfortable.
High-visibility AX-Suede™ palm.
TPR hook and loop closure.
Machine washable.
---
We Also Recommend