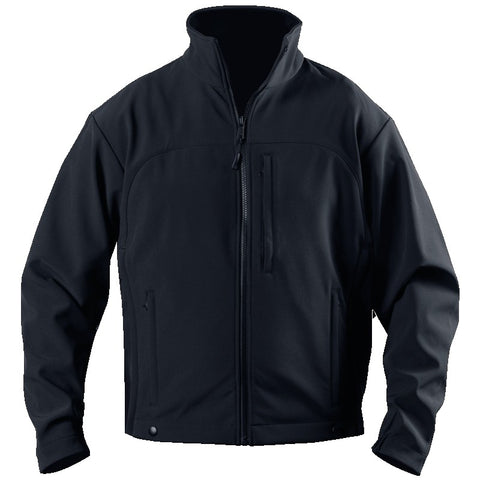 Blauer Softshell Fleece Jacket Black- Style 4660
Lightweight fleece-lined design provides superior warmth and wind resistance to most fleeces
Water resistant finish repels rain and snow
Zips in as a liner for Blauer System Outerwear Shell Jackets
Another Blauer first. When we first wore fleece jackets and pullovers on the slopes 20 years ago we fell in love with its warmth and easy care attributes. Unfortunately the early fleece looked a lot like children's sleepwear and most Chiefs would not allow its use as an outerwear substitute. We spent the next 10 years looking for a replacement. Our search ended with the introduction of softshells.
Blauer softshells are made using a proprietary stretch nylon faced fabric that won't pick, pill or fade like ordinary fleece and softshells. The backing is a warm and comfortable medium weight micro fleece. We added a water-repellent treatment to the fabric and made it tough and extremely quiet. The end result is a neat looking uniform duty jacket that is weather resistant, warm, and practical.  Even the Chief loves these for the professional appearance they present. Beware there are many companies offering softshells made using polyester shell fabric which is prone to unprofessional picking and pilling. 
All of the Blauer softshell styles can be worn alone or used as a warm winter liner in our Systems Outerwear. Customization such as emblems and insignia are also easily added.
---
We Also Recommend