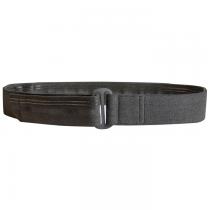 Blauer Guardian Keeper Belt - Style B003
The Blauer B003 Guardian Keeper Belt is the world's first stretchy keeper belt. Law enforcement officers know that police keeper belts are an essential part of the uniform — they keep your duty belt in place, even when you need to engage your weapons. But the Blauer Guardian Belt takes it to the next level. This belt features a stretchy design for the perfect fit and all-day comfort. It's made of our 360-degree pile loop material, which anchors any hook-style leather or web duty belt securely.
It also provides a wide range of comfort-enhancing features to keep you cool, safe and comfortable all day long. The breathable, elastic webbing has a silicone double bead design to prevent heat retention and to hold your keeper and duty belt securely in place. It also features a soft, stretchable layer that cushions your hips from sharp edges and contours with your shape from the moment you put it on. The stretch, fit and performance of this belt is patent-pending, so you can be sure it'll provide revolutionary performance. We offer the Blauer B003 for sale in a wide range of sizes at Blauer.com. 
Waistband comfort stretch and cushioning
Strong stretch loop face holds duty belts firmly in place
360-degree pile loop for the best grip of any keeper belt
Unbreakable buckle and adjustable hook closure
Reinforced tapered ends will not ravel
1.75" width
Sizing Information by waist size (inches):
XS  [26-28] 
SM  [30-32] 
M    [34-36] 
L    [38-40] 
XL   [42-44] 
2XL [46-48] 
3XL [50-52] 
4XL [54-56]
---
We Also Recommend